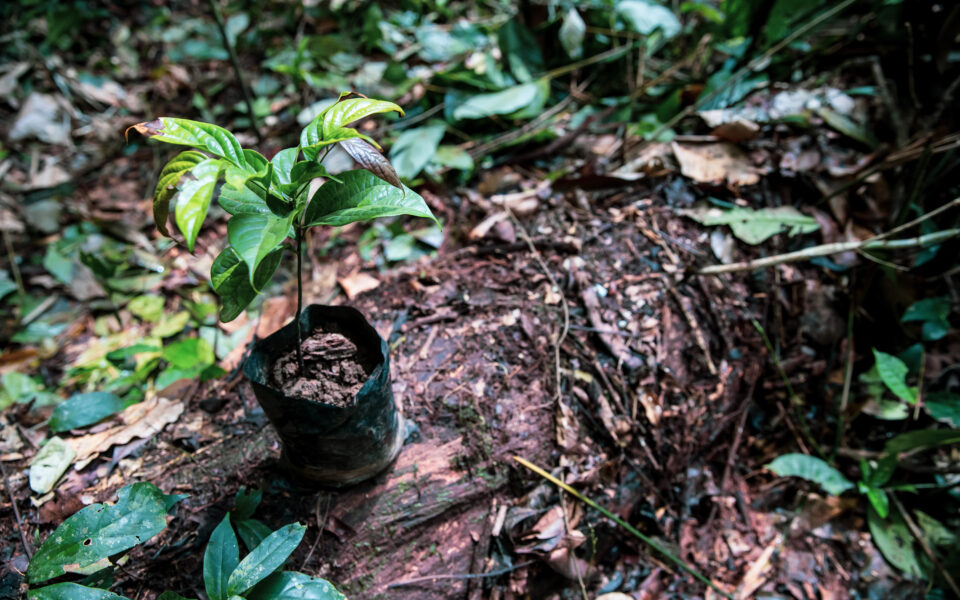 Update on Sustainable Ebony Project from Taylor Guitars
A Public-Private Partnership in Cameroon
Previous issues of Wood&Steel have featured stories about our Crelicam ebony mill in Yaoundé, Cameroon, which is owned and operated in partnership with our friends at Madinter, an international tonewood supplier. You also may know about some of the work being done as part of what we're calling the Ebony Project, detailed in Bob Taylor's video blog reports from his World Forestry Tour last year (covered last issue and viewable on Taylor's YouTube page).
To recap, in 2016 we embarked on the Ebony Project in partnership with the Congo Basin Institute (CBI), a multi-institutional organization made up of universities and NGOs collectively focused on finding solutions to the region's most pressing challenges. The project seeks to better understand the ecology of African ebony (Diospyros crassiflora Hiern) and to enhance stocks through community-driven plant- ing efforts, all while collecting crucial ecological data to identify key threats to the long-term sustainability of the spe- cies in its natural setting. In addition to propagating and planting ebony trees — 15,000 over the next three years — the project also provides native fruit and medicinal trees to participating commu- nities. It's all at no cost to the villages.
While the project is still in its early phase, already we have produced several thousand ebony plants, CBI is con- ducting groundbreaking ebony-related research, and a small number of communities are part of the project. Simply put, we want to leave far more than we ever take. And the project is starting to attract some attention.
Back in September, we had a lot of people come visit Crelicam, CBI, and some of our partnering Ebony Project villages in Cameroon. Senior delegations from the World Bank, The U.N. REDD+ program, the U.N. Food & Agriculture Organization, and the U.S. Forest Service International Programs all came to check out what we were up to. Apparently, most people liked what they saw, and it led to a lot of follow-up conversations, one of which culminated in Taylor Guitars being invited to the U.N. Climate Change Conference in Bonn, Germany on November 14 to sign a Public-Private Partnership agree- ment with the Cameroonian Ministry of Environment.
Working together with CBI and Taylor's Crelicam partner, Madinter, the Ministry will assess the feasibility of expanding the existing Taylor-funded CBI Ebony Project model of community engagement, tree propagation,and planting more broadly across Cameroon's subnational REDD+ pro- gram (i.e., much of the southern part of the country prioritized by the government for forest protection, management and restoration under the U.N. Climate Change Convention). Cameroon's REDD+ program was developed with the financial and technical support of the World Bank's Forest Carbon Partnership Facility and the German Development Bank.
From its inception, before any of this, The Ebony Project had been designed as a pilot for larger-scale rainforest restoration efforts, and to date it has been fully financed by Bob Taylor. To be honest, we never dreamed of partnering with U.N. agencies, foreign governments or the World Bank. We started this project on our own because we simply felt it was the right thing to do. However, having signed the PPP, the Government of Cameroon will commission a study to assess the feasibility of scaling up our approach across southern Cameroon. In the meantime, we'll continue doing what we've been doing ... and if it turns out that someone wants to expand the concept so that more trees can be planted, then we have no problem with that! We'll keep you posted.
This article was published in the Winter 2018, Volume 90 issue of Wood&Steel, the in-house magazine of Taylor Guitars. Read the full issue online