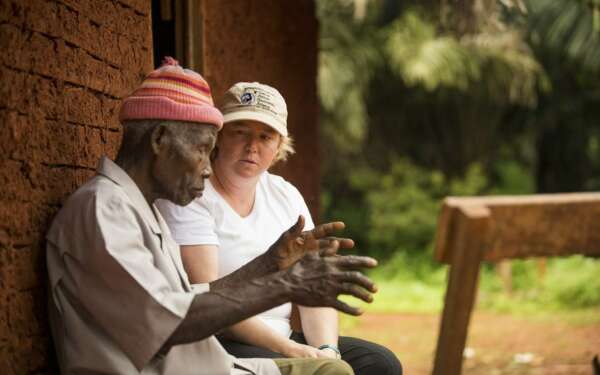 Our mission
Breakthrough solutions that meet the needs of the developing world
By 2050, over 9 billion people are projected to compete for scarce resources on a planet experiencing the effects of severe climate change. We envision a world that meets its people's needs for health and nutrition, while developing sustainable economies and preserving the natural diversity of its ecosystems.
The Congo Basin Institute (CBI) is dedicated to finding solutions to the interconnected issues of climate change, human disease, food and water security, and loss of biodiversity in the Congo Basin.
These challenges hit the countries of the Congo Basin especially hard:
Its countries have some of the world's lowest per capita income and bear some of the highest human disease burdens.
Most development aid to Africa misses the Congo Basin region.
Deforestation, overgrazing, soil degradation and emerging agricultural pests and diseases further impede development.
And only 20 percent of the region's students who go overseas return.
These conditions make the Congo Basin the ideal place to develop solutions to these challenges — by engaging people who understand the tangled roots of the underlying problems.
Together with our globally recognized partners, we leverage the diverse resources of universities, industry, government, and development organizations. We have a growing campus hosted by CBI co-founder International Institute for Tropical Agriculture (IITA) and partner in Yaoundé, Cameroon.
We aspire to solve these challenges by:
Employing interdisciplinary scientific approaches
Developing partnerships that quickly take research into action
Having African scientists and decision makers taking the lead
CBI as solution maker
A number of factors make our approach novel and effective:
A permanent presence in the region.
We're based in Cameroon—the "hinge" between Western and Central Africa, and a country diverse in culture, landscapes and biodiversity. Cameroon is an ideal laboratory for innovative solutions appropriate in many situations across Africa. Visit us.
An integrated approach.
We undertake research on climate change, poverty alleviation, food and water security, human health, and biodiversity. But we examine and understand how they interact—not as concepts in isolation. Our work.
A focus on African scientists.
We give African scientists the training and opportunities to do that research—and then bring forward those findings in ways policymakers can take into action. Capacity building.

University and NGO partners.
We bring together universities, NGOs, governments, and other stakeholders. We draw on the University of California—one of the largest universities in the world—as well as partners in the Asia, Cameroon, Europe, and the USA. Join us.
Our plan
Building problem-solving capacity in the Congo Basin
Higher education in Central Africa faces numerous challenges. Local knowledge is not leveraged. Limited resources and available infrastructure mean some of the best and brightest students leave their home countries to study or work abroad and then remain there—a "brain drain" that means those best skilled to solve the region's problems are not in the region.
Our approach is different: Build a center of scientific excellence in Central Africa— generating research that decision makers can use to address sub-Saharan Africa's environmental and development challenges.
Expanding on the existing resources and infrastructure of the IITA campus the Congo Basin Institute (CBI) will serve as a regional nexus for interdisciplinary research, education, training, and technology development focused on critical issues facing the Congo Basin with implications for both the developing and developed world: climate change, water and food security, biodiversity, and human and animal health.
Our ultimate vision: To use IITA's network of 14 campuses across sub-Saharan Africa to build a hub in each country of the region.