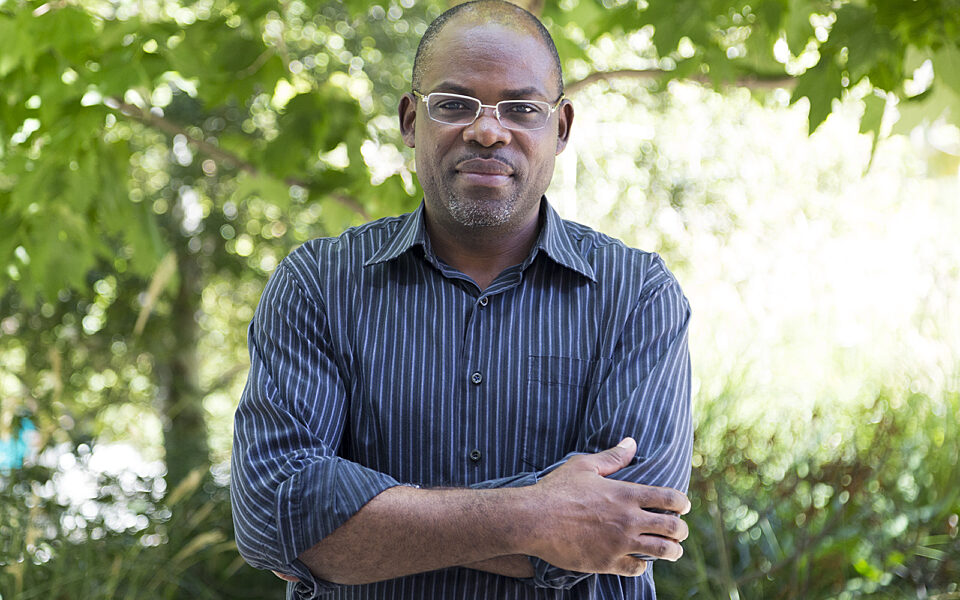 UCLA assistant adjunct professor partners with Congo Basin Institute
Learn more about Kevin Njabo, an assistant adjunct professor at UCLA who helped establish the Congo Basin Institute in this Daily Bruin interview.
Kevin Njabo left Cameroon 15 years ago to pursue teaching and research in environmental science at UCLA.
Njabo, an assistant adjunct professor of environmental health sciences, helped establish UCLA's partnership with the Congo Basin Institute, in which he serves as the Africa director of the Center for Tropical Research.
UCLA and the International Institute of Tropical Agriculture, a nonprofit organization that focuses on agricultural innovation in Sub-Saharan Africa, partnered to create CBI, a Cameroon-based interdisciplinary research institute, two years ago. CBI conducts research on regional environmental issues and provides educational opportunities to local communities.
At a TEDGlobal conference on Wednesday in Arusha, Tanzania, Njabo talked about his efforts to help develop research in biodiversity and environmental sustainability in Africa, and why the international community should support building research institutions in African countries.
Njabo said he believes that humans should protect and sustain the earth and its environment, which drove him to pursue biology at Boston University and eventually led him to a career at UCLA.
"There is no planet B if we destroy this planet," Njabo said. "It is our responsibility to sustain it."
Njabo said while he is passionate about the environment, he also wants to change the way the world views Africa.
"From what we see in the media, the tendency is to say Africa is a dark continent with war, famine and disease," Njabo said. "But there is so much more than that."
At the conference, Njabo said he thinks African countries should develop local institutions that can resolve issues they face related to environmental sustainability, higher education and economic self-sufficiency. Njabo added he thinks CBI can help achieve this.
To help build local institutions, CBI operates various laboratories and field stations run by Cameroonian researchers from local universities who partner with international organizations, universities and companies as research stakeholders. As Africa Director, Njabo said his job is to facilitate relations between international affiliates and Cameroonian researchers.
"UCLA can go out and do more in Central Africa's tropical forest, where more than 30 percent of the world's oxygen comes from," he said. "It's something we should preserve and protect and understand."
But Njabo said he thinks the international community sometimes prevents Africans from solving their problems by outsourcing work he believes African institutions should handle.
For example, Njabo said West African nations affected by the 2014 ebola outbreak did not have the capacity and resources to respond to emergencies effectively, so the U.S. and other nations flew in experts to address the emergencies. But Njabo said he thinks African institutions should handle these types of issues in the future.
"The experts would collect (health) samples in Africa, then go back to the U.S. (or other developed nations) to study them and find a solution," Njabo said. "Instead of this, we need to build these institutions in Africa rather than the developed world."
Thomas Smith, CBI's co-director, said he first started working with Njabo when he was a postdoctoral researcher at UCLA. Smith said Njabo played an important role in lobbying UCLA to help build CBI.
For example, Njabo helped the institute set up a biological field station in the Dja Wildlife Reserve in Cameroon as well as a capstone course in ecology and evolutionary biology at CBI, Smith said. Njabo played a significant part in organizing the course and helping with logistics.
Smith added Njabo also helps Cameroonian students conduct their research by working with a nonprofit to help them obtain refurbished research equipment.
"Any given time he's going to Cameroon, he might have five or six laptops and different GPS units for students," Smith said. "He's doing a lot for UCLA students, but he's also doing a lot for local students to help them get a leg out."
Njabo also led an undergraduate research team on sustainable ebony production in Cameroon in March. The team researched new agricultural methods to grow ebony, created economic models to better support local communities and visited ebony sawmills in Cameroon to help plant trees in rural villages.
"In many cases, Africans are not part of the development chain in industry, and there's no area where Africans can decide a product's cost," Njabo said. "We're looking at how to remake this business model to empower Africans to grow their ebony and sell it themselves."
Kenyon Chow, a graduate student in atmospheric and oceanic science who was part of the research team that traveled to Cameroon, said it was rewarding to help introduce sustainable methods of growing and harvesting ebony to loggers in Cameroon.
Chow added Njabo helped model the team's research plan using his own experiences growing up in Cameroon and introduced the students in the research group to Cameroonian culture.
"I shared a local (Cameroonian) dish (called) Poulet DG with him," Chow said. "During our trip to Cameroon, he was considered to be a father figure to our group."
Njabo said he is happy to have contributed to CBI's creation. He added that researchers at CBI plan on studying how Cameroonian forest species respond to climate change, in order to investigate which habitats and species may be especially vulnerable to rising temperatures.
This article by Emi Nakahara originally appeared in the Daily Bruin.