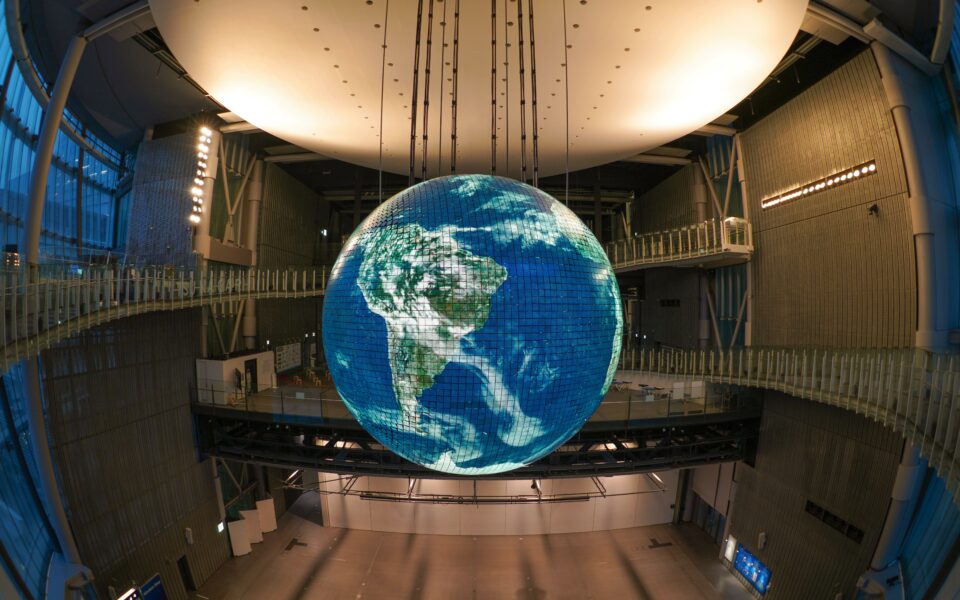 Teaching for the Future of Bioinformatics
At the University of New Orleans, conservation biologist Nicola Anthony, along with partners in the U.S. and Africa, is designing curricula with CyVerse to prepare students for a future when informatics is integral to all life sciences.
"I think it's really important at this time to be introducing students to computational thinking, rather than just having them push a button to have an analysis done."

When Nicola Anthony, a professor of biology at the University of New Orleans (UNO), first trained in molecular and evolutionary biology, the field of genomics – and all the computational conundrums associated with it – was just on the horizon. "It's a very new world for science right now," she said, "it means everyone has to learn very different tools."

The Anthony Lab is currently working with a host of partners in the United States, Africa, and Europe on an ambitious international collaborative study to map environmentally-associated genomic variation in central African rainforest species. This international partnership is known as the Central African Biodiversity (CAB) Alliance.

The longterm goal of CAB-Alliance is to use genomic data to identify areas where species have the best capacity to adapt to climate change and make recommendations to decision-makers about considering these areas for future conservation," Anthony explained.

"We'll rank areas for protection based not only on their high adaptive potential but also vulnerability to economic development," she continued. "If there's a large infrastructure project planned, that may not be the best place to put conservation efforts."

With data becoming available for the project, Anthony and her postdoctoral associate Katy Morgan and graduate student Courtney Miller worked with project partners at the Université des Sciences et Techniques de Masuku (USTM) in Gabon, University of Buea, and University of Cape Town, South Africa to bring bioinformatics from Louisiana to Gabon, using CyVerse cloud and high-performance computing resources.

Anthony was first introduced to CyVerse in 2015, at a RNA-Seq training workshop for faculty trying to transition to the genomics era, held at the DNA Learning Center at Cold Spring Harbor Laboratory (a CyVerse partner site).

Anthony brought what she learned back to UNO, incorporating use of software in the CyVerse Discovery Environment and Atmosphere cloud computing platform for the analysis of differential gene expression patterns and processing of SNP datasets into an undergraduate class in evolutionary genomics, taught with fellow faculty UNO faculty member Joel Atallah in the fall of 2016.

Courtney Miller, who was a beginning graduate student studying environmental genomics at the time, said that: "the class allowed students to learn computational aspects such as scripting and programming, and also gain skills for analyses with bioinformatics."

The Anthony Lab and CAB-Alliance project partners next brought bioinformatics to a global audience, incorporating CyVerse platforms into a week-long workshop held at USTM in Gabon in the summer of 2017.

"Despite difficulties faced with internet connectivity in Gabon," Anthony said, "we demonstrated everything that is available through CyVerse, from scripting and programming to data storage and analysis. It was a very positive experience."
Participants also worked in the UNIX shell using the Oracle VirtualBox application. "The virtual machine was really convenient at the workshop, because it allowed us to have everything on the same desktop, which really helped to streamline the projects," noted Miller, who is now nearing the completion of her thesis in the Anthony Lab and helped design and instruct the workshop.
The workshop wasn't just to teach skills – participants were working on real datasets, raw genotypic data from three of the CAB-Alliance project's species: a puddle frog, a soft-furred mouse, and a forest antelope.
And the hope is that as developing nations across the central African region achieve better internet connectivity, their scientists will be able to better integrate computational resources into teaching and research. At least Anthony's partners with CAB-Alliance, and workshop participants, will have a head start.
Back in New Orleans, Anthony plans to continue using CyVerse resources, for a new graduate-level course in the spring of 2018, "test-driving different ways of using this technology for education and research" and another undergraduate course in evolutionary genomics in the fall of 2018, introducing another class of young scientists to bioinformatics resources.
Anthony collaborates with Patrick Mickala, Stephan Ntie, and Jean Francois-Mboumba at USTM, Eric Fokam at the University of Buea, and Anelda van der Walt and Samar Elsheikh at the University of Cape Town.
The CAB-Alliance is primarily funded by a grant from the National Science Foundation's Partnerships for International Research and Education program to Tom Smith of the University of California-Los Angeles, with Anthony and Mary Katherine Gonder of Drexel University as co-investigators.
This story was written By Shelley Littin, of CyVerse and originally appeared here.