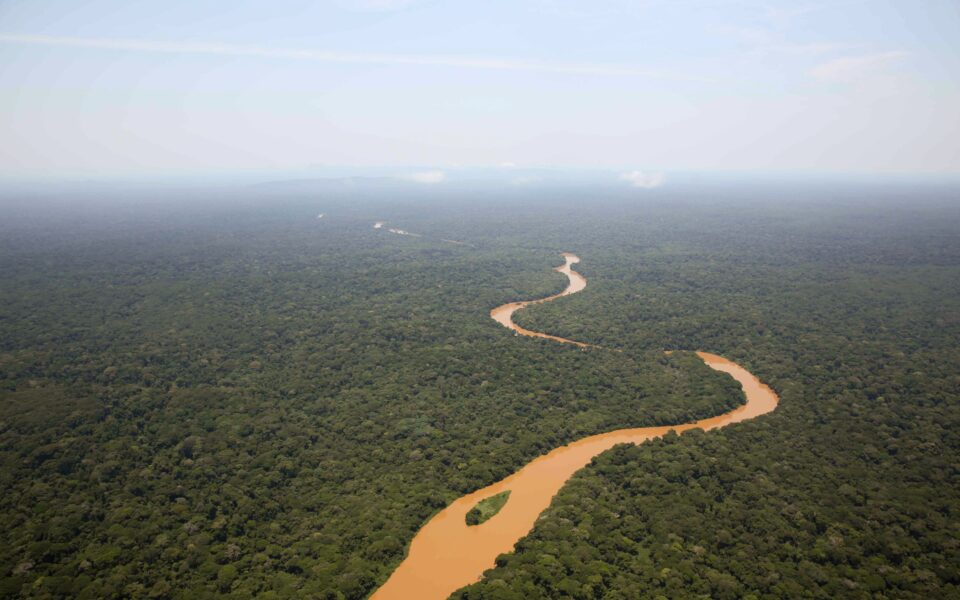 Positioning Shade Grown Cocoa to Improve Conservation and Rural Livelihoods
The project seeks to protect the forests and biodiversity of the Democratic Republic of Congo (DRC) by offering economic opportunities that provide sufficient income for farmers without the loss of primary forests.
Status:
The project team is an experienced group of research and nonprofit organizations including the University of California, Los Angeles (UCLA) and the International Institute for Tropical Agriculture (IITA) under the umbrella of the Congo Basin Institute (CBI), the Wildlife Conservation Society (WCS), and Rikolto, a nonprofit that enables and supports smallholder farmers to take up their role in rural poverty alleviation. Phase I of the project is 1 year (2021-2022).
THE FORESTS OF EASTERN DRC ARE ICONIC—AND UNDER THREAT
The Okapi Wildlife Reserve (OWR), a World Heritage Site in the Ituri Forest in the north-east of the DRC, harbors spectacular biodiversity, including the iconic Okapi (Okapia johnstoni). Parts of the surrounding Ituri province act as a buffer zone for the Reserve. Ituri is also home to a growing human population, in part due to significant in-migration from neighboring provinces in search of land, which threatens the Reserve and its biodiversity. Clearing for agricultural production is a major cause of deforestation in the region, and deforestation for cocoa farming is common. The deforestation rate in Ituri does not yet equal that of West Africa, where 2.3 million hectares of forest were lost to cocoa production between 1988-2007. However, as demand grows, and climate change renders West Africa less suitable for cocoa and Central Africa more suitable, the pressure on the forest around OWR is predicted to increase.
The rampant deforestation one now finds in West Africa is one version of the future for Ituri. This project seeks to bend the curve towards a different future—one where private sector investment, improvements in cocoa production, and a sustainable land-use planning and forest governance approach combine to limit deforestation while providing meaningful local economic development.
BENDING THE CURVE TOWARDS CONSERVATION
This project seeks to conserve the biodiversity of OWR by (a) limiting deforestation around the Reserve while (b) promoting a sustainable shade-grown cocoa approach that is more supportive of biodiversity than other anthropogenic land uses. We are doing this in three ways.
1. DEVELOPING A BUSINESS CASE AND ENGAGING THE PRIVATE SECTOR IN AN EFFORT TO HALT DEFORESTATION FROM COCOA GROWTH IN ITURI
The project makes the case to cocoa buyers that DRC offers an opportunity to meet growing global demand and supplement waning supplies from climate change-impacted West Africa. Globally, 62% of cocoa is purchased by companies with sustainable sourcing commitments, and increasing scrutiny of deforestation driven by cocoa production in West Africa is leading companies to make active investments in sustainable value chains. In October 2020, Ivory Coast and Ghana, which represent 60% of global cocoa production, began charging a $400/MT premium. Responses from major corporations to this development were supportive, demonstrating an increased willingness on the part of major buyers to pay for sustainable sourcing. Expansion of cocoa production is already happening in Eastern DRC. This project will directly engage the private sector to co-design a business case that addresses private sector needs and concerns.
2. DEPLOYING THE BEST QUALITY SCIENCE TO ADDRESS PRODUCTION, BIODIVERSITY, AND LAND USE TRACKING
Using evidence-based best practices, the project uses management and intensification techniques to address private sector existing agricultural lands while minimizing collateral impacts on biodiversity and essential ecosystem services. There is space for significant improvements in the quality and quantity of cocoa from Eastern DRC through well-tested approaches like varietal sorting and low-cost improvements to post-harvest processing, which can be supplemented by cutting edge regional research led by IITA to sustainably intensify cocoa production. The project also leverages team expertise at the intersection of biodiversity and agroforestry to promote shade-grown approaches that maintain yield, allow farmers to diversify crops, and promote ecosystem services and biodiversity. It is assessing impacts on primary forest and monitor changes in biodiversity pattern and process. In this way, the project promotes a shade-grown approach that maximizes the conservation of biodiversity and protects yield and quality.
3. COORDINATING WITH OTHER PROJECTS ADDRESSING CONNECTED ISSUES
There are numerous other projects in the region that seek to address issues that impact a sustainable cocoa value chain in Ituri, including projects focused on conflict resolution, governance, economic development, and access to finance. The CBI team is coordinating with these projects while filling two key gaps in existing programs: 1) developing a clear business case for sustainable deforestation-free cocoa in Ituri, and 2) bringing an integrated conservation and agronomics technical approach.